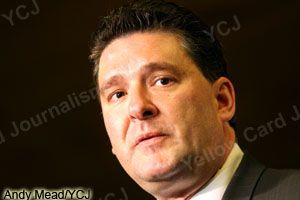 Many folks were curious how the balance between the Rhinos and the new Cary USL team will be handled. Well, I think we have an answer. Chris Economides, who is the only General Manager in the Rochester Rhinos 10 year history,
will leave his post with the Rochester franchise
to concentrate soley on starting up the Cary franchise. He will however, retain his minority ownership stake in the Rhinos. This is great news for Cary as we'll have an executive with a wonderfully proven track record at the helm with a 100% focus on making our club a success. My condolences to the Rhinos fans who I am sure will be disappointed by the move as Economides has a well-respected reputation among their following. Could this be the start of a nice sibling rivalry?
UPDATE:
Read what
Rhinos fans are saying
about the announcement